Introduction
Tylenol is a brand of drugs for reducing pain, fever and the like, introduced in 1955. The brand name is owned by McNeil Consumer Healthcare, a subsidiary of Johnson & Johnson. The active ingredient is paracetamol, also known as acetaminophen. As the patent for paracetamol ended years ago, Tylenol added some ingredients to make it a unique product – and they needed some good marketing to sell it.
The beginning
Tylenol is a household name in the US, so it needed little "introduction", but it was the first-ever nonprescription drug to be aimed at LGBT  in June 2003. Ads for Tylenol PM were placed in OUT and The Advocate, along with a supporting sponsorship of New York City's Pride parade.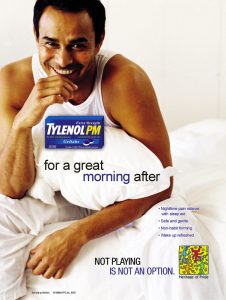 Nonprescription drugs, supported by multimillion-dollar ad budgets, most often seek mass audiences rather than select groups like the gay community. For years, drug companies have sought gay audiences only for HIV related medications and a few other prescription needs, such as Propecia hair replacement and Androgel testosterone therapies. "We're making a shift to niche advertising from mass efforts," says Bill Donovan, marketing manager for Tylenol PM. "We're going more local with events and newspapers. Everything else is just going through the motions."
The ad shows a smiling, thirty-something mixed-race man in a white tank top, sitting in bed accompanied by the text, "For a great morning after" and the tagline: "Not playing is not an option." The ad includes the Keith Haring-designed logo of Heritage of Pride, the New York City Pride organizer, as part of its sponsorship. The ad looks very similar to the mainstream effort, picturing a black woman and a list of stressful things from her day.
Next…
In 2005 they showed support for LGBT, with just a logo (one with a rainbow oval) in a 10-second congratulatory spot for the historic debut of LOGO, the 24-hour gay channel from Viacom, an announcer said, "The makers of Tylenol PM welcome LOGO, the new home for gay America on television. For pain and sleeplessness, stop, think."
For several years, the Children's Tylenol division has been a supporter of the Family Equality Council,  which  connects, supports, and represents the three million American parents who are LGBTQ, and their six million children. In 2012 they worked with them to produce Mother's and Father's Day e-cards for same-sex parent families.
While other marketers are lured by the possible size of gay incomes, education levels or vaunted loyalty, those details were less important to Donovan. "It's really about the insight that they may suffer more." He found that research showed the gay market has "some great characteristics for a sleep aid," such as a higher propensity to travel and fewer children in the household.
Quoting Norman Rockwell
In 2014 Tylenol ran a commercial in their new "For What Matters Most" campaign, re-imagining one of Norman Rockwell's most iconic works, Freedom From Want with a group of diverse families, including a pair of lesbian moms who are raising their children with one partner's ex-husband (the father of the two children) and another adult. The father says: "We don't talk about 'halfs' and 'steps.' We talk about family, and siblings, and parents, and willingness to remain included."
The campaign features three modern families, including the Beser Carr Schneider Musich family, recreating the holiday dinner scene captured in Rockwell's painting. The videos are narrated by Rockwell's granddaughter, Abigail Rockwell. "Norman Rockwell painted America's story for 60-plus years," she explains. "Our definition family is now expanding and blossoming … the core of Norman Rockwell's work is about coming together, just being present for each moment." She concludes, "Family is what you make it out to be."
#HowWeFamily
The next year they launched How We Family, in which they "redefined the modern American family". The touching commercial, directed by award-winning director Dustin Lance Black. depicts gay, lesbian, and biracial families. In a 'behind the scenes' clip, Black gives some more background to the commercial.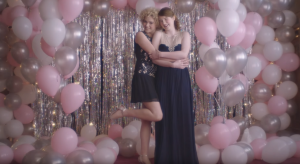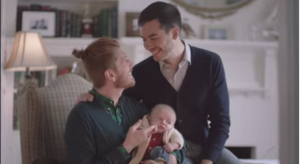 Actor Denis O'Hare talks about meeting his husband Hugo Redwood online 15 years ago, and their decision to begin the arduous foster-to-adoption process with their son Declan.
Manoj Raghunandanan, senior director of marketing for J&J's McNeil Consumer Healthcare, expressed pride in the brand's further move into this direction. "The reality that we know today is that families look and feel different than they did before and we want to celebrate that fact," he said. "Because we're a family brand, because we're an iconic American brand, and we want to continue to serve families into the future, I think it's important that we reflect what that family is today."