Introduction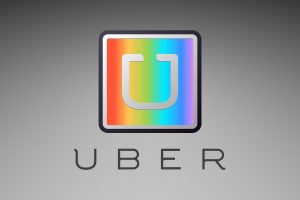 Uber Technologies is a peer-to-peer ridesharing, food delivery, and transportation network company headquartered in San Francisco, with operations in 633 cities worldwide. Its platforms can be accessed via its websites and mobile apps. The name "Uber" is a reference to the colloquial word "uber", meaning "topmost" or "super". Uber has been a pioneer in the sharing economy, so much so that the changes in industries as a result of it have been referred to as Uberisation. Their brand includes spinoffs from the Uber taxi business: UberPool, UberWedding, JUMP (e-bikes and scooters) and Uber Eats.
Uber's Diversity
Their website says: "Our goal is to promote LGBTQ inclusion and diversity at Uber. At Uber, we believe the world is brighter, more colorful, more productive, more creative, and happier when each of us can be authentic to who we are. UberPride works to build a workplace and community — within Uber and across our cities — in which LGBTQ individuals feel welcome, fiercely supported, and empowered to be their best selves." All this is realized through recruitment, community outreach and training.

For the past years, they earned a top score of 100% on the Human Rights Campaign Foundation's Corporate Equality Index. They also joined the HRC's Business Coalition for the Equality Act and supported federal legislation in the U.S. that would ensure equal protections for members of the LGBTQ community in the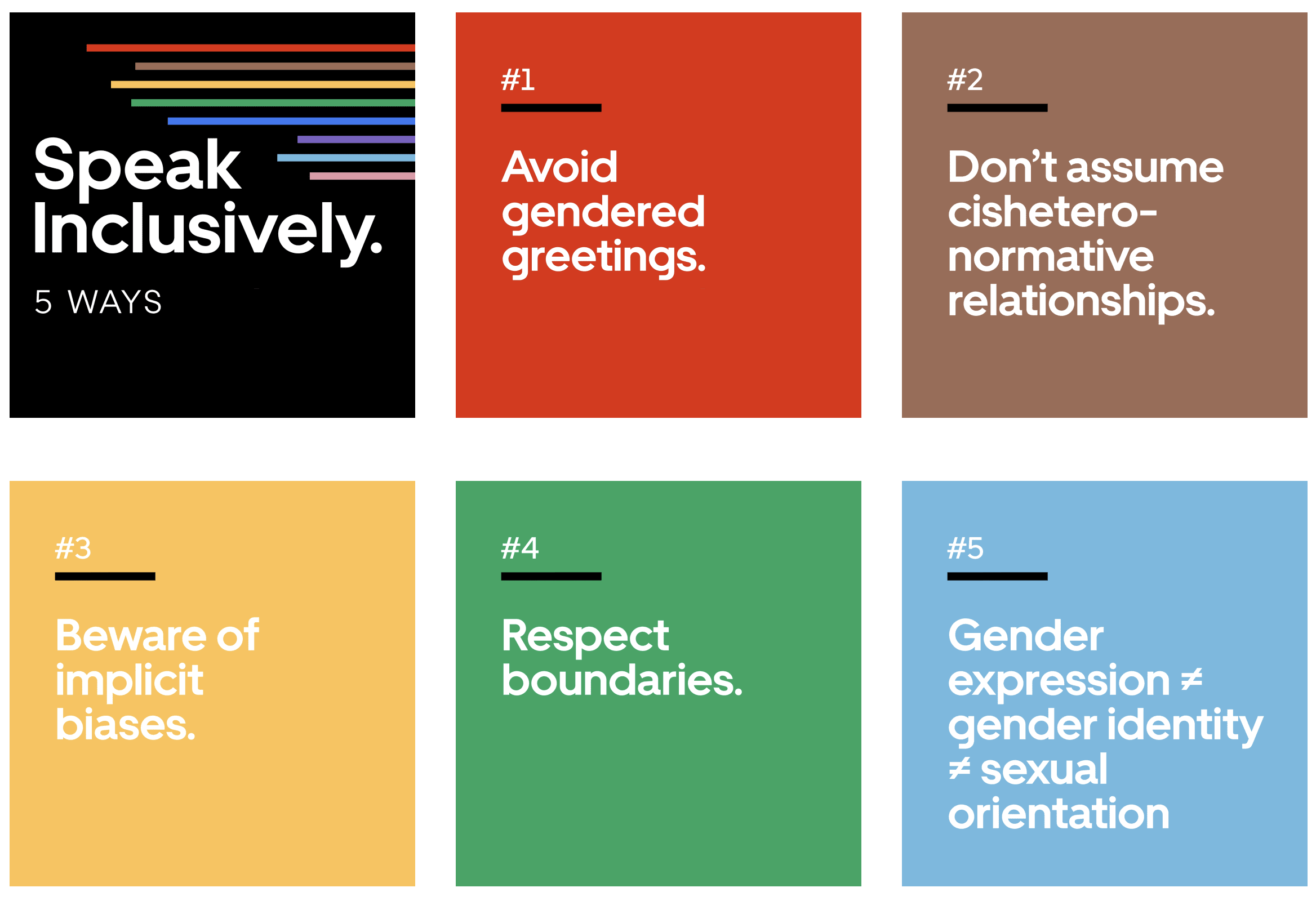 workplace. Finally, they publicly opposed harmful initiatives such as the federal transgender bathroom directive, the 2015 Indiana religious freedom bill, and North Carolina House Bill 2.
The corporate website has an extensive page about Inclusion and Diversity, including tips and "how to's".
Pride at Uber
Pride at Uber is a group promoting LGBT+ inclusion, allyship, and diversity at Uber. Through the We stand with Pride initiative  they stand in solidarity with the Black Lives Matter movement, and they're donating thousands of free rides to SAGE (advocates for LGBT+ elders), The Trevor Project (supporting LGBT+ youth) and the Marsha P. Johnson Institute (protecting and defending the human rights of Black transgender people).
Here's some of what we're already doing:
* We have Community Guidelines in place that explicitly prohibit discrimination
* Created a standalone option in our app to report discrimination
* Introduced transgender services for our employees to support their transgender journey
* Committed free rides and meals to nearly 20 NGO's globally, including the Marsha P. Johnson Institute, Vida Alegre, Albert Kennedy Trust, and Casa Florescer with the support of TransEmpregos
And what we're working on:
* New product features for transgender Earners and Riders allowing them to use their self-identified chosen first name on our platform
* A fund to help cover the costs associated with updating one's name and gender on state and federal ID's and records
* LGBT+ bystander education for our employees and everyone using our platform
* Listening, learning, and engaging with community members to better support those using our platform
Frankly, the number of campaigns and communications in Marketing the Rainbow is so extensive, that I had to make a selection.
UberWEDDING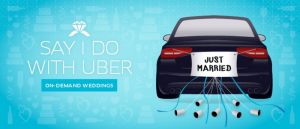 Already in 2014, before the same-sex marriage was legal in all states, they offered UberWEDDING in California. Interested parties could  win a complete wedding plus honeymoon. Uber said: "We're thankful to be based in San Francisco, a city that recognizes love doesn't have to look any certain way. In honor of Pride week, we're celebrating the inclusive idea that love is love with something that lasts a lifetime." Eight couples, straight and gay, were rewarded with transport, a notary, vows if needed, flowers, champagne, a gift bag, and a honeymoon (sponsored by HotelTonight and Alaska Airlines).
Pride 2015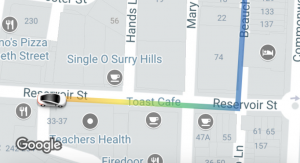 Throughout all of June 2015, Uber showed its support for Pride Month with a simple-but-smart marketing hack – attaching an image of the rainbow flag to the virtual cars on its mobile app. The move generated little buzz until the SCOTUS verdict, when significantly more people started posting pictures of the Uber maps in their social media streams.
Many thought Uber started doing it in real time in reaction to the news on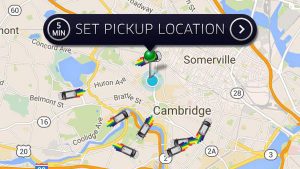 Friday that the Supreme Court made same-sex marriage legal in all states. But, as AdWeek noted, while the small initiative actually started a few weeks before, it was still worth noting.
Ride With Pride
Uber collaborates with the San Francisco AIDS Foundation and Trans:Thrive. They was also partnered with the It Gets Better Project during pride
parade weekends in San Francisco, Seattle, Los Angeles, Portland and San Diego. The campaign was called #RideWithPride. During specific hours in some cities, Uber users could select "PRIDE" from the app's list of ride options to hail a car equipped with a video camera and postcards so that they could record and write messages of hope for LGBT youth. The entire fare was donated to It Gets Better. "Uber is committed to diversity and inclusion and we're thrilled to be partnering with an organization dedicated to spreading a message of hope. We're excited to celebrate Pride Month with you, and we hope you will join us as we ride with pride. Thank you for making a difference."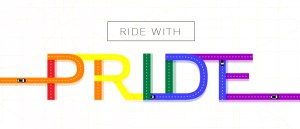 They did the same thing more than once in the U.K. to celebrate Pride, in the US for Pride Month and again to support the vote in favor of same sex marriage in Australia, late 2017. The app told users, "Uber passionately supports equal rights for everyone in our community. We support marriage equality and stand with the LGBTI community in cities around the world. Every vote is important. Ensure your vote is heard." The app then linked to the Australian Electoral Commission website to enroll or check enrolment. They also encouraged their drivers to enroll in the plebiscite.
Controversy
A year earlier, Uber in Australia was confronted with complaints from a lesbian couple, who was harassed by a driver (who was subsequently sacked) and a gay passenger who reported he was kicked out of an Uber for kissing his male friend. Similar incidents were recorded in London, in San Francisco during Pride and more recently in Houston, where a couple was dropped off along the highway after a kiss.
Orlando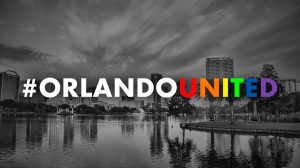 After the 2016 shooting in Orlando, Uber offered free rides – two rides of $20 – to a selection of LGBT spots including bars, community centers and museums in solidarity with the community, in dozens of cities across the U.S., such as New York City's Stonewall Inn. They also gave free rides to family of the 49 people who were shot and killed in Orlando.
UberPool gay crush
When the new carpooling service UberPool was introduced in 2016, they released an advertisement with an adorable surprise at the end. The campaign retold stories from Uber users about their experiences with the app. Passenger AJ Tabangay from the Philippines was the first to have his story told, recounting carpooling with his long-time crush. Tabangay's tweets about sharing a car with his crush were picked up by Uber and inspired the new campaign. The actual tweets were shown in the video.
Another video for UberPool comes from Singapore: it highlights the country's diversity, including a gay man who 'comes out' to the older male fellow passenger in an hilarious way.
Amsterdam Pride
In 2018 and 2019 they had a very colorful campaign for Pride in Amsterdam, sharing the stories of a dozen employees, and facilitating shared rides, and other extras.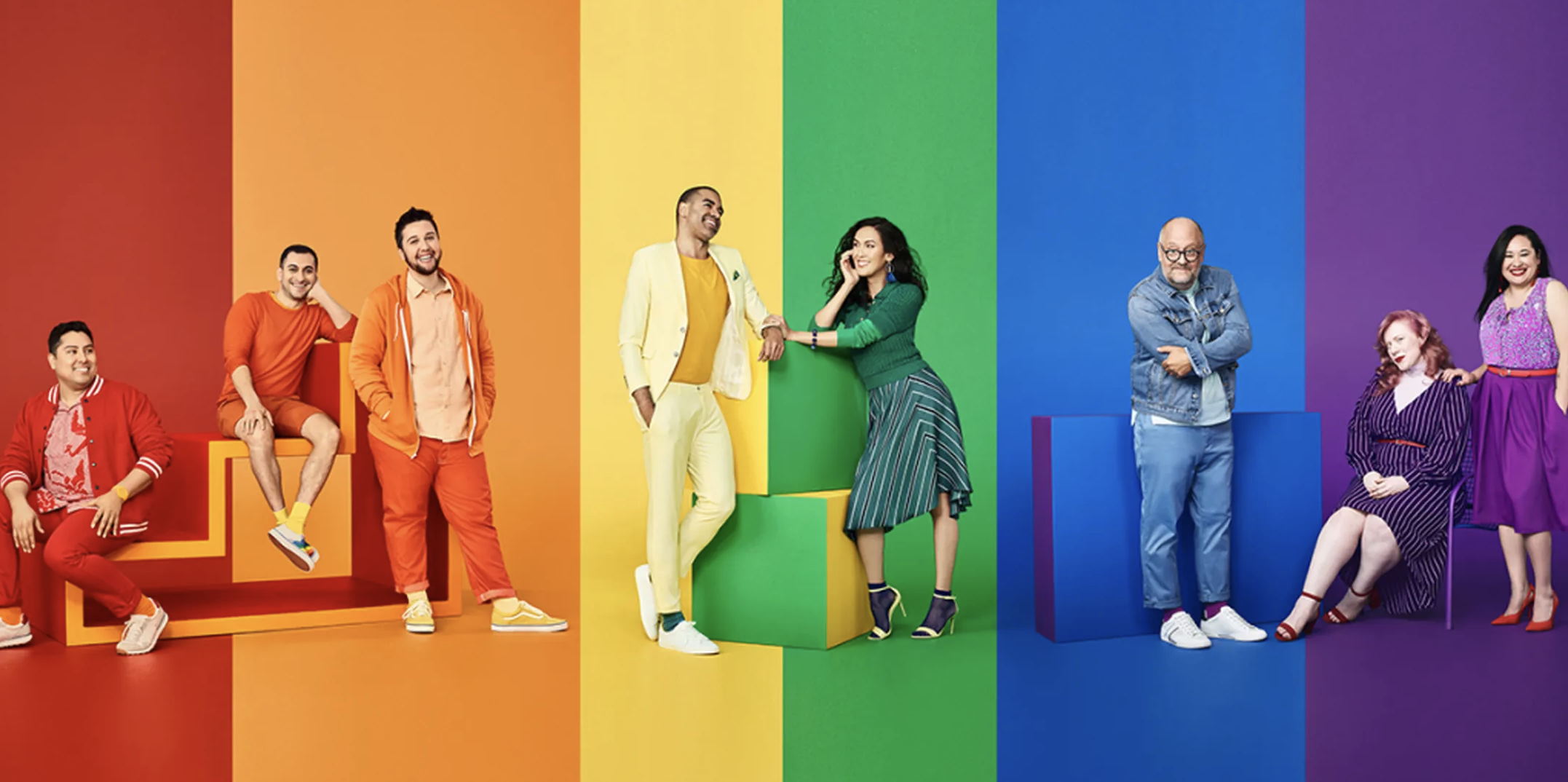 The global campaign in 2019 was called: Pride Comes In All Colors, and featured 15 employees and partners posing with different Pride flags.
More controversy
In 2019 there was more controversy, this time in Amsterdam. Uber drivers refused to pick up drag queens who ordered a car. Amsterdam icon Jennifer Hopelezz (Richard Keldoulis) was the victim of discrimination more than once. The case escalated, and in the end a convenant was signed in which Uber (and the other taxi companies) promised to step up and exclude discriminatory behavior. Bu alas, the convenant was broken more than once.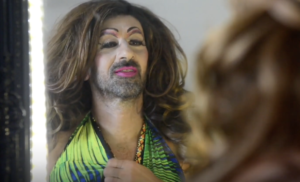 Uber wrote on their website: "Unfortunately, there are still examples of misunderstanding and discrimination within the taxi industry. No passenger or driver should be exposed to this. We are working hard to raise awareness and to combat discrimination. That's why we are happy to share Richard's story with you, he is part of the LGBT + community and talks about his experiences. Together with Richard we are working on a better understanding of diversity and acceptance within the taxi sector.
Romeo and Julio (Spain, 2019)
A hilarious love story with a twist. Uber is the sponsor of two major football clubs in Seville: Real Betis Balompié and Sevilla Futból Club. This can lead to some disputes… "We invite you to watch the history of Romeo and Julio, a couple of Sevillians who will have to fight against the opinions of their families. After a time together, Romeo and Julio decide to take a big step in their relationship and communicate to their families that they want to get married, but they will not make it easy for them, since they are confronted by their ideals. Will they make it to the altar or will they succumb to the pressure?"
Many Voices of Pride
In 2019 Uber partnered with PinkNews to launch its Many Voices of Pride campaign. The global campaign, created by The Elephant Room and helmed by Samuel Douek, went beyond splashing the familiar six colour symbolic Rainbow flag to represent the many sexual orientations and gender identities that make up the LGBT+ community.
It also incorporated the stories of Uber's employees and riders and weaved in the various LGBT+ flags, to include agender, asexual, bisexual, gay, gender-fluid, genderqueer, intersex, lesbian, non-binary, pansexual, polysexual, Black pride and transgender identities.
These stories were featured on Uber's dedicated blog page as well as on its app and across its social channels throughout the month of July. The stories were also wrapped on more than 100 Jump bicycles, Uber's newly-released electric bikes, in London.
One Million Moms
Uber Eats was lucky enough to attract the attention of the ultra conservative One Million Moms (OMM) in 2020 for three commercials with Jonathan van Ness. This Queer Eye star was being his fabulous self, but OMM accused Uber Eats "of glamorizing a LBGTQ lifestyle".
They even brought in corona to scold them: "Shame on Uber Eats for attempting to brainwash viewers with an agenda instead of focusing on providing a helpful service, especially during a pandemic," the group wrote. A reprimande, or better boycott, from OMM is always good for business.
The clips also feature Olympic gymnast Simone Biles. They are extra interesting because Jonathan performs some amazing gymnastic feats. The third clip can be seen here.
A spokesperson for Uber said: "At Uber Eats, we're unapologetically committed to representing the flavor spectrum. From tacos to talent, we like it spicy. JVN and Simone serve gymnastic prowess and self-confidence, qualities millions of moms everywhere can – and do – support." And scene.
Shortly afterwards, PinkNews announced it was proudly partnering with Uber Eats to present the LGBT+ Friend of the Year Award.
Australia
In 2017 Uber Eats launched its first ever brand campaign in Australia featuring celebrities discussing what they would be ordering from Uber Eats. The 'Tonight, I'll be eating' campaign rolled out with state targeted ads starring Sophie Monk, Beau Ryan, Ryan Maloney, Naomi Watts and Boy George. There are (at least) 6 spots with Boy George, which you can find on my channel.
In 2018 the campaign brought us Rebel Wilson and (openly lesbian) Ruby Rose with a few cute videos.
In 2019 Uber Eats surprised Australia with the 'most iconic ad of all time' — a collaboration between Kath & Kim 'netball superstar' Sharon Strzelecki (openly gay Magda Szubanski) and Kim Kardashian West. They were both dressed in netball gear. Fun fact: the pair did not meet during the shoot, but were filmed separately.
New Zealand
In neighbouring country New Zealand they ran a series of clips for Uber Eats with Jono and Ben (entertainment show hosts) and Stan Walker (Australian-born New Zealand singer, actor, and television personality). All men are straight – but the clips are very campy.
Lil Nas X and Elton John
It's hard to imagine two gay superstars more famous than Lil Nas X and Elton John. Uber Eats pulled all the LGBT glitter stops with the series: "Make history, not dinner". This is a campaign video with a behind the screens look, supported by the song One Of Me, in which both stars collaborate too.
Conclusion
In spite of (or thanks to?) some incidents with the drivers – who are not employed by Uber and therefor less easy to control, even though contracts are in place – Uber has a consistent and very colorful history of diversity, LGBT-inclusion and the enabling of employee and partner initiatives around Pride. The gay celebrity representation in numerous clips, as well as some adoring video stories have added to certifying Uber as a good player in Marketing the Rainbow. The LGBT-visibility in less 'easy' markets, like Asia, gives them bonus points. They score a 9/10!
This article was last updated on Mar 1, 2022.