Introduction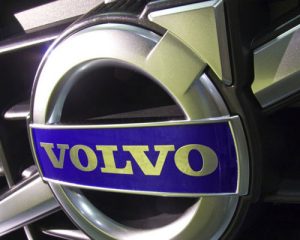 Volvo is a Swedish manufacturing company. Volvo Cars was sold to Ford Motor Company in 1999, and since 2010 it has been owned by the Geely Holding Group, a Chinese multinational company.
The beginning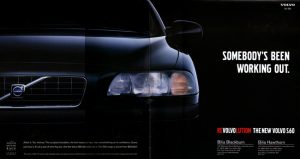 Volvo began testing the gay market in June 2001as a sponsor of the GLAAD Media Awards, and with a one time mainstream ad for the S60. In July of that year Volvo placed the ad in Genre magazine and had a promotional presence with the magazine in the West Hollywood Gay Pride Parade. They provided three convertible S60s to carry Genre cover men Bill Brochtrup, of ABC's "NYPD Blue," Alec Mapa, of CBS's "Some of My Best Friends," and another for magazine publisher Richard Settles. Cars were made available more often, in Pride parades in other cities as well.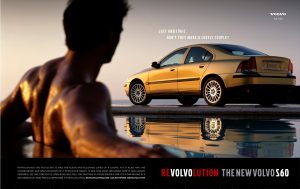 The mainstream print ad for the S60 shows a man's shirtless torso in the foreground, as he looks at the champagne-colored car. The text says: "Lust and logic. Don't they make a lovely couple?". "The ad was part of a local initiative by Volvo in the San Francisco area, where the company sponsored a gay pride parade," Scott Druian, Western Regional Brand Manager for Volvo, told AdWeek. While the Volvo ad was a one-time effort for that year, publisher Settles said Volvo was considering Genre for more truly national ads in 2002.
Next steps
The next year, a new campaign made Volvo one of few car companies to create tailored gay market advertising, following Subaru.
Still, those were a very different tone than the racy ads carried for Volvo in Australia. In 2001, in the Australian Blue magazine a Volvo ad announced, "Volvo's are no longer straight." The 2003 Sydney Gay & Lesbian Mardi Gras program book carried an image of a phallic-looking parking brake handle in the "erect" position with the headline, "We're just as excited as you." (see picture on top).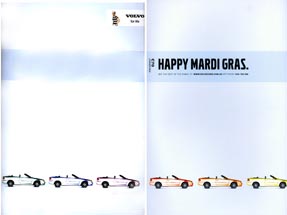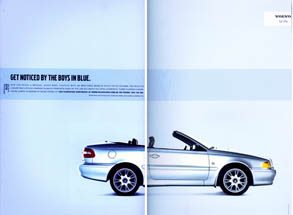 They were awarded the prestigious David Ogilvy Award by the Advertising Research Foundation for this print ad campaign. They also won the 2004 Multicultural Excellence Award from the Association of National Advertisers, the first year the ANA carried a Gay & Lesbian category.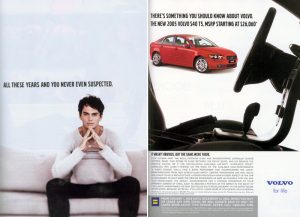 In that year they also supported the Human Rights Campaign with an ad, which played on guessing whether the man in the picture was gay — "All these years and you never even suspected" — as well as the attributes to the car. On the second page of the spread it takes the premise a step further when it adds, "It wasn't obvious, but the signs were there."
It's a Swedish thing…
Volvo adopted IKEA's stance on 'family' and treated lesbians and gays just like any other customer. They took "their heritage of safety and family appeal a step further by introducing its new SUV with the first national car ad picturing happy gay couples posed with a child or dog".
Volvo's owner Ford discovered that the gay community was more inclined to SUV's than the general population: 30% as to 23%. According to Jan Valentic, vice president of global marketing at Ford Motor, this is why the XC90 was co-star in Volvo's gay families ad.
Behind the campaign
So, the choice that Volvo made was not a gut feeling, but based on extensive market research, both qualitative and quantitative. Witeck-Combs Communications (public relations and marketing communications), Harris Interactive (market research and consulting), and creative agency Prime Access, were commissioned by Volvo to develop new strategies to reach this largely untapped consumer market.
"We wanted to better understand how to leverage the buying power of this very brand loyal market. We did so by further analyzing this market via one of the most comprehensive studies of LGBT consumers," stated Vic Doolan, President and CEO of Volvo Cars of North America. "As a result, we crafted a compelling story effectively communicating the core values of the Volvo brand while speaking credibly and intelligently to this unique consumer segment. The 'Starting a Family' campaign speaks directly to LGBT consumers about Volvo's diverse family of vehicles, with a goal to increase consideration and appreciation."
About those families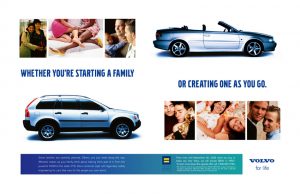 While in 2001 the ad said: "Whether you're starting a family, or creating one as you go", showing six same sex couples, along with two models of a Volvo. In 2003, the text read: "Some families are carefully planned. Others, you just meet along the way. Whoever makes up your family, think about making Volvo a part of it." The ad also said Volvo would donate USD 500 to the Human Rights Campaign when a vehicle was purchased or leased. "For us, it was very natural to address gay families," said Thomas Andersson, executive vice president of Volvo Cars North America. "We're targeting people with modern family values. It's a value set and the Volvo-minded consumer is very diverse. 'Family' is much more than the traditional family."
The ad targets men and women ages 40-50 and ran from May to August in Out Magazine and The Advocate. It was the second phase of a campaign for the XC90 that began in February 2003 — the first time a new car was introduced in gay media and mainstream media simultaneously.
The "Starting a Family" print ads ran in national LGBT publications beginning May 2003 and continue to run for the next years. The print campaign was accompanied by an integrated online initiative called "Volvo Family Portraits" on Advocate.com in the fall of 2003.
"The notion of the chosen family is very strong in the gay and lesbian community," notes Howard Buford, president of Prime Access, which created the Volvo ads. "Gay focus groups indicate a strong preference for direct messages that show who they are. When advertisers usually talk about families, the gay mindset is, 'They don't really mean our families.' It's a message of exclusion unless it is direct."
Here come the conservatives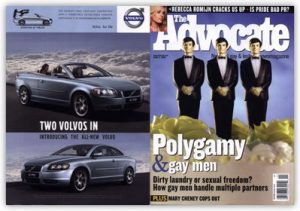 A print ad on the back cover of Advocate magazine in 2006 – with the tagline: "Ford Motor Company. Standing strong with America's families and communities" – got the religious fanatics (AFA) all revved up. The front cover listed an article on "Polygamy", so the AFA concluded "Ford's support for the magazine's promotion of homosexual polygamy leaves no doubt that Ford means to continue pushing the homosexual agenda, even including homosexual polygamy." Ford's Customer Relationship Center said their support was "a strong commitment we intend to carry forward with no exception."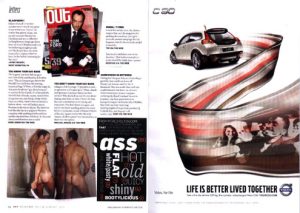 In 2007 a similar "coincidence" appeared when the ad "Life is better lived together" was placed opposite an article about Tom Ford in Out magazine, that include a frisky shower scene. The AFA once again tried to protest, but as one website observed: "The increasingly irrelevant American Family Association is trying to resurge their failing Ford boycott by lashing out against the automaker".
Home
Of course, in Sweden they supported the Pride events as well, for instance in 2009 with a reception in the showroom and customized cars.
Rainbow cars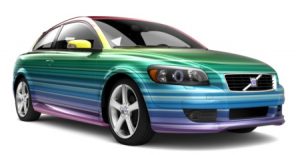 In 2008, drivers in Sweden could choose to personalize the color of their C30 with a number of designs, one of which was a rainbow. It was dubbed a "gay pride car by one website, but the design was not meant as such – or not used in that respect anyway.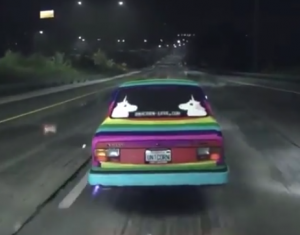 An appearance of a rainbow Volvo in a video game was fun, but not part of the company's campaign.
A first: the commercial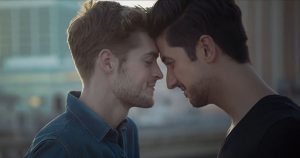 In 2017, for the first time a gay aspect was included in a commercial. The redesigned XC60 compact SUV wasn't the star of this new ad; active, happy people, the bright lights of city skylines and green, rolling hills were featured most prominently. And for a brief moment a man and his boyfriend shared a quiet moment that conveyed love, contentment, and the embrace of equality.
Although the moment was brief, the press was raving: "Gay Couple Appear In Chic New Volvo Commercial", "Gay couple star in Volvo's epic new car advert", "Right there in the midst of Volvo's posh new commercial is a handsome gay couple having a quiet moment."