Introduction
Another online booking agent joined the ranks of gay marketing in 2004: Travelocity, an American travel fare aggregator website and travel metasearch engine, owned by Expedia.

The dedicated section of their website says "It's your vacation, and you should feel comfortable wherever you go. That's why Travelocity is proud to offer our gay and lesbian customers over 1,000 hotels that are TAG approved." (certified  LGBT welcoming hotels and attractions). However, the section is tucked away pretty deep on the website, and you need to have  hyperlink  to get there. Even the search LGBT or TAG will not get you there.
Next steps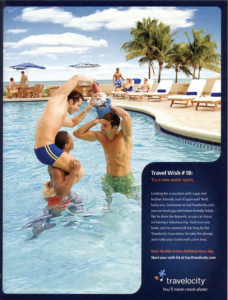 Travelocity and PlanetOut announced a strategic agreement in 2005, to use Travelocity as the preferred travel services provider for the 3.3 million active members of Gay.com and PlanetOut.com through a new co-branded booking tool accessible through both websites. At the same time, PlanetOut would provide Travelocity.com with exclusive LGBT travel content, further enhancing Travelocity's own gay and lesbian travel store. They sponsored the 13th and 14th annual PlanetOut Travel Award. This cooperation no longer can be found, probably due to the new ownership of PlanetOut.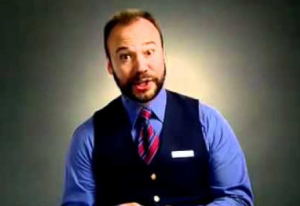 A video that featured camp airline stewards was launched in 2009 and caused some controversy because of the stereotyping of the guys in there. Others loved the humorous depiction of the stewards.
TripOutGayTravel.com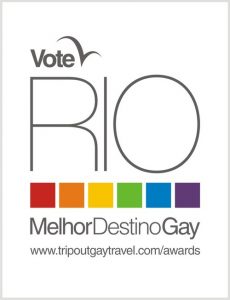 Logo, a unit of Viacom's MTV Networks, launched TripOutGayTravel.com, a new website dedicated to all things travel for the LGBT community in May 2009. Although LOGO is gay network, the move is still interesting for this research, as it was launched with multiple advertisers and three primary advertising sponsors – American Airlines, Travelocity, and Greater Fort Lauderdale CVB.
They previously shared travel tips with its viewers through the travel section of LOGOonline.com and TV series "Bump!" and "Round Trip Ticket."
By 2012, the URL TripOutGayTravel.com had disappeared and linked through to the NewNowNext website, labelled as a "Beyond Trends" venue, with the Logo Online brand almost invisibly stated underneath. It does have some gay-specific articles but offers more of the kind of stories you'd see on a straight site, like "Five Tips for Fighting Jet Lag" and "Dine Like You're Aboard The Titanic." Now, the link now directly goes to Logo's Twitter account.
Mexico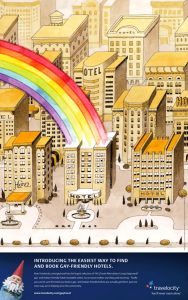 In 2012 they launched the "first micro site specializing in LGBT travel in Mexico". According to their statistics, of the 180 million tourists who visited Mexico in 2011, 3% concerned LGBT travelers, a figure equivalent to more than five million people. However, the URL www.travelocity.com.mxLGBT had already disappeared a year later. A Google search ends up with a Travelocity site in Spanish: it does mention "LGBT" but is aimed at travellers from Mexico, and is not available in English.
In June 2012, they also linked up with Fagabond.com ("Same Sex. Different Travel."), who claimed to be the first site to offer both info and bookings for LGBT travellers.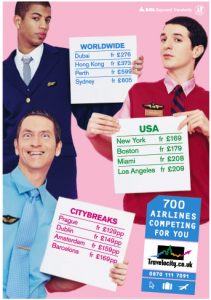 On Twitter they set up an account for this segment too: @gaytravelocity. By September 2013 there were just over 7,000 followers, while 560 tweets had been sent, but in 2014 the account was closed.
In conclusion: there have been a number of initiatives, but all ended, disappeared or were cancelled.