Introduction
Uber's big competitor, at least in the US, is Lyft. It is based in the same city, San Francisco, and operates in 300 American cities. In 2017 they expanded to Canada. Lyft wanted to brand themselves as a fun, hip alternative to taxis, and part of doing this was designing a logo that was bright, fun, and comical. From its launch, the company used an oversized, fuzzy pink moustache as an image, place on the front of the car. This was inherited from Zimride (est. 2007), which they acquired in 2012. In little time, the bright, fun Lyft logo was immediately recognizable, and any vehicle with a pink mustache on its grill could be identified as a Lyft vehicle. The Lyft logo was different in a good way, and this helped set the company apart in the eyes of its customers. It was updated with a pink "glowstache" in 2015, which was situated on the dashboard.
Although the color and the object, as well as the company's home base could be associated with gay culture, it was not the intention of Lyft to target gay males in particular. It was only replaced in 2016 with a bluetooth-enabled, LED gadget called the Amp – to make recognizability easier.
Better Together
In the same year they joined the #BetterTogether campaign, to celebrate Pride, in 10 cities. A contest – Get colorful. Get weird. Show us what Pride means to you – promised the winners "a boatload of Lyft credit and HotelTonight credit to build your own dream getaway. To sweeten the deal, Southwest Airlines will get you there with a gift card to help cover your flights."
Diversity
In 2016 they appointed Tariq Meyers as Head of Inclusion and Diversity, before releasing a first diversity report in 2017. This neatly listed all percentages of race and gender – easily identifiable – but nothing on LGBTQ people, or even disabilities. They did mention they had been working with diversity consulting company Paradigm to identify additional opportunities to attract, select, develop and retain diverse employees. One thing it did was hold the company accountable for their HR policy. The held "unconscious" bias trainings, launched campaigns to donate to non-profit organizations (including the HRC) and implemented a Gender Inclusion and Affirmation Policy that specifically ensures an inclusive environment for transgender people. It says "Trans team members, including those who transition on the job, can expect the full support of management, their supervisors, and the People Team, including an empowering and supportive environment."

Through the Round Up & Donate program, 75,000 passengers have donated about $380,000 to the HRC (for which they opted) in just four months. Effectively, the HRC awarded Lyft with its Corporate Equality Award that year.
It gets political
When Uber's CEO Travis Kalanick became an advisor to president Trump, Lyft benefited from the 'social unrest' that followed: #DeleteUber became trending on Twitter, and as the services are almost identical, users could easily swap. Lyft was lauded for its denunciation of Trump's order on immigration and their $1 million donation to the American Civil Liberties Union.
SAVE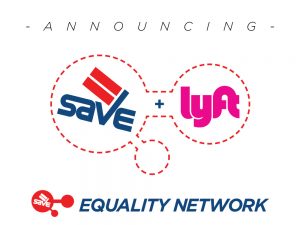 On the rainbow front, Lyft started a partnership with SAVE's Equality network in Florida, signing on as an Equality Defender sponsor of Champions of Equality 2016. The press release said: "At Lyft, our mission is to bring people and their communities together through better transportation. Today, we are honored to announce our partnership with SAVE to bring safe, reliable rides to the LGBTQ community, unlocking the freedom for riders to go where they want, when they want. By encouraging our drivers and passengers  to "Ride With Pride" across the country, Lyft stands with SAVE and the LGBTQ community in support of equality for all Americans."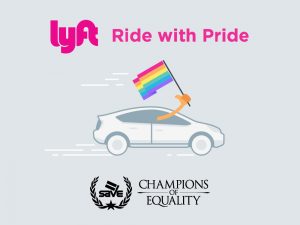 Controversy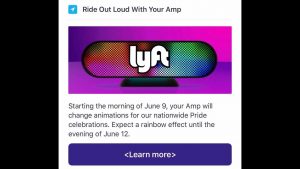 But working with so many 'employees', it was to be expected that Lyft, too, would run into issues with bigotry. When Lyft announced that its Amp light would display rainbow colors for a period of time to celebrate LGBT Pride
Month celebrations in each city it operated, some drivers protested. One driver posted publicly "Hey lyft just cause your a pro gay company doesn't mean all the people that contract with you are. So your going to force your pro gay agenda thru the amp. Really ! Well guess what I'm not going to turn it on. Hell i might break it into tiny pieces and mail it back to you . I thought it was a device to help passengers find your car Not a piece to spread the gay agenda. Your not going to use me to do it".
In Chicago two Lyft passengers sued Lyft in 2017, claiming a driver pointed a gun at them and threatened them with a gay slur.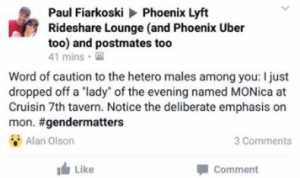 Another Oops-moment was seen when a Lyft driver in Phoenix posted a warning on Facebook: "Word of caution to the hetero males among you: I just dropped off a "lady" of the evening named MONica at Cruisin 7th tavern. Notice the deliberate emphasis on mon. #gendermatters". He not only made her out as a prostitute, but also revealed her location – a practice known as "doxxing". Lyft refunded the passenger $15 and banned the driver from their app. That's all folks.
Gender neutral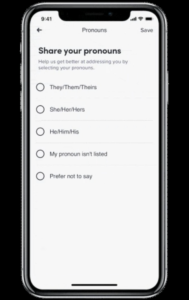 In 2019 they announced that they were introducing gender-neutral pronouns to mark Pride. People who book car rides through the app will be able to select he/him, she/her or they/them pronouns. Users will also be able to choose not to disclose their gender identity.
Drivers will not be able to share their preferred pronouns with riders, however they will receive other benefits as a part of the initiative. As a part of its Pride 2019 plans, Lyft partnered with the National Center for Transgender Equality (NCTE) to offer advice on legal name changes to drivers. The company will also offer $200 financial support to drivers who are legally changing their names.
Lyft said asking users to select 'male' or 'female' is 'outdated, wrong and hurtful'. Respect!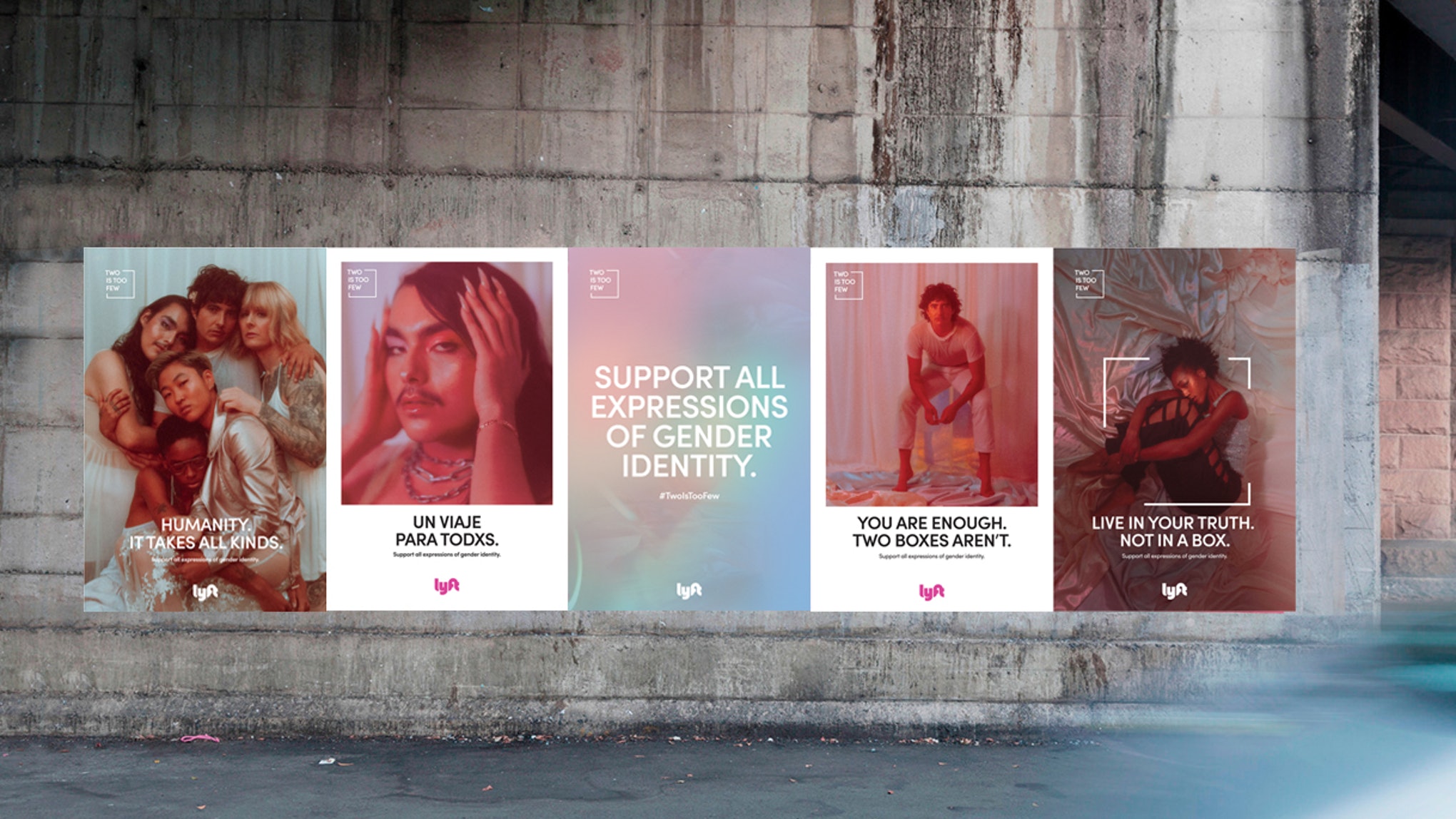 In that same year the celebrated Pride with the video "Two is too few", in which an array of LGBT-persons are featured.
This article was last updated Jul 14, 2021.