Introduction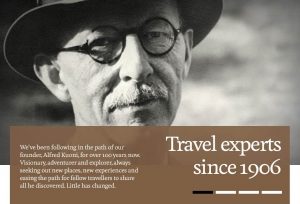 Kuoni Travel is a tourism company, founded in 1906 by the entrepreneur Alfred Kuoni in Switzerland. In 1965 they decided to establish a base in the United Kingdom by purchasing Challis and Benson; over time, they became the leading longhaul tour operator in the British market. Unlike other big travel companies, they still work closely with local independent travel agents.
Kuoni UK is now part of DER Touristik (the German REWE Group). They have a network 48 "luxury" retail stores (including 15 located in John Lewis retail stores), each store is uniquely designed, with Nespresso coffee and champagne for customers. The company won numerous prestigious awards: in 2013, the Kuoni Group was named "World's Leading Luxury Tour Operator" at the annual World Travel Awards.
The beginning
In 2016 Kuoni UK announced it had recruited a 10-person team of LGBT experts to help advise on cultural attitudes in various destinations. They revealed that same-sex honeymoon bookings had increased by 279% over the past five years.

Their websites features a special LGBT section, which gives a wide selection of destinations, selected cruise lines and information. It also states: "At Kuoni we're experts at creating tailored holidays, whether it's a honeymoon on a picture-perfect beach in the Indian Ocean or a cultural exploration in the Far East. We believe no two holidays should be the same and our Personal Travel Experts are passionateabout crafting itineraries that reflect each customer's individual requirements. Same sex travel is no different, however we understand there are a few more considerations to take into account when you're choosing your 

holiday destination. Laws and attitudes around the world vary considerably from those in the UK and these are constantly altering. Our team of Personal Travel Experts keep up to date with changing lawsand have in-depth knowledge regarding cultural sensitivities around the world in order to provide you with the most reliable information."
Search…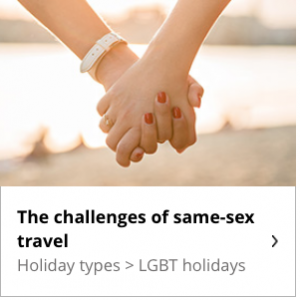 The special web page is listed under Holiday Types. When you search for "gay" on the home page, first the Gaya Island Resort comes up – the relevant results are listed much lower on the page. Still, they have really made an effort, and the destinations recommended as gay-friendly are really that – plus they are highlighted in a professional manner that makes sense for the same-sex traveller, including an informative page about "The challenges of same-sex travel".