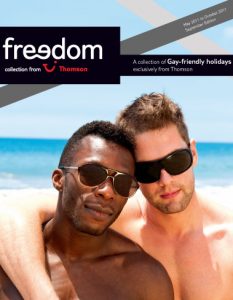 Leading British tour operator Thomson (member of the German TUI group) launched 'gay friendly holidays' in 2010. Their press release smiled "The bold stripes of the rainbow flag are brightening up Thomson's website with the arrival of its new holiday range aimed at the gay market: The Freedom Collection." It was launched with a smart new e-brochure. Designed with gay and lesbian travellers in mind, it's "the only collection of its kind to be offered by a mainstream tour operator".
The distinguishing feature of the Freedom Collection was the fact every single hotel, be it a budget base or a boutique hotel, would have the "GayComfort seal of approval". GayComfort is an online accreditation program developed by OutNow in 2008, which among other things means that frontline hotel staff have had special training to help strip out the awkwardness that often creeps into same-sex holidays. The seal has been awarded to around 1,000 locations worldwide, but now seems defunct, as the Facebook is hardly updated and the website is only partly functional.
Thomson Innovation manager, Philippa Morgan, said: "This is a hugely exciting launch for Thomson. There's definitely an appetite in the market for gay-friendly holidays that come with the security and peace of mind that only a big tour operator can offer."
In spite of the good (?) intentions and the obvious potential of the market, the dedicated microsite is now no longer active. Searching for "gay" on their website results in a page with events from 2010/2011… The previous page for gay weddings now simply refers to a wedding site without any LGBT features. Segments of the blog are only a bit more recent and do, casually, refer to gay destinations. The dozen or so "Best for" segments do not list a "Best for LGBT travellers" section.
So much for a mainstream company employing Marketing the Rainbow.