Introduction
The Hertz Corporation is the worldwide industry leader in car rental. They have never advertised in gay media, but state a "spouse or domestic partner" can be added free in most locations – without specifying gender.
The beginning
In 2004, a US campaign in a gay travel booklet aimed at gay drivers with the wordplay "See The Country From Top To Bottom", followed in 2005 by "Wherever You're Going, Hertz Can Take You There" showing two lesbians, and "Follow the Road Wherever it Takes You" in 2006. Both male versions, remarkably, show bicycles instead of cars…
But first…
An openly gay customer-service rep claimed he was fired from his job at Hertz having suffered "repeated sexual harassment" during his 11-year tenure there, after he made a formal complaint in 2002. He sued the company in federal court.
Not much later they seemed willing to openly embrace diversity, stating on their corporate website: "Diversity: Embrace it. Share it. Celebrate it! Here at Hertz Global, we believe our core strength lies in our ability to embrace differences and create opportunities for all employees, customers, owners and franchisees, and suppliers. A diverse body of talent with fresh ideas and perspectives is one of the essential ingredients to a company's long-term success."
Only in 2019, Hertz had moved (from 95 in 2018) to 100% in HRC's Corporate Equality Index.
The Netherlands
In Amsterdam Hertz branched out to canal boat rental in 2012 – just in time for Canal Pride. They were offering everything from gondolas and taxi boats, through to luxury motorboats and large boats that can hold up to 35 – "perfect for your Pride party". They gave customers who were feeling adventurous the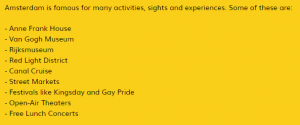 option of trying their hand as skipper, but those who were simply after some relaxation could opt for an experienced captain and a private chef. However, this service was no longer to be found in 2013. The only reference to Pride is in the list of "activities, sights and experiences" on their Dutch website
Leading LGBT Executive
Brian Casebolt, Hertz' vice president of merchandising and ancillary revenue, was recognized on the 2015 OUTstanding & Financial Times Top 100 Leading LGBT Executives List, which ranks inspirational role models across the globe who work tirelessly to ensure that the workplace is equally inclusive for everyone. "We are incredibly proud to have Brian as a part of our organization and grateful for his efforts to champion a diverse, inclusive workplace at Hertz," said Eliana Zem, executive vice president and chief human resources officer at Hertz Global Holdings. "Diversity is one of our cultural pillars, and we work hard to ensure it permeates the organization. Brian is a true leader in this important area for us." Casebolt would lead the LGBT & Allies Employee Resource Group (ERG), which was formed shortly afterwards as a part of the company's broader employee engagement efforts.
The nomination of Mr. Casebolt, with the additional statements by the company, indicate that Hertz is now a gay-friendly company. This, however, is still hardly visible in their marketing efforts.
United Kingdom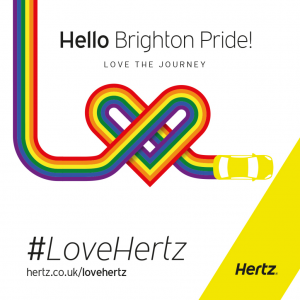 In 2016, Hertz partnered with the UK's biggest Pride Festival, Brighton & Hove Pride, becoming the event's first Official Fleet Provider. They provided the pride team with a fleet of vans for logistics before and during the event. Vehicles were also branded with the logo andm colors of the eventAdditionally, community organizations, participants in the Parade and other event organizers were able to benefit from special vehicle rental rates during the event. David Rowlands, General Manager Hertz UK, commented: "We fully support the values Brighton Pride embraces, as well as its organizers' fantastic work in celebrating diversity and raising funds for good causes." The sponsorship was continued in 2017. They posted a rainbow flag on their Facebook page with the message "Shining a light on pride. #Pride".