Introduction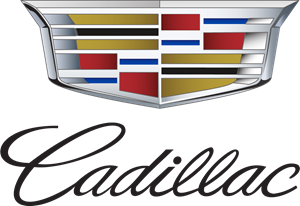 Cadillac is a division of General Motors (GM) that markets luxury vehicles worldwide. Cadillac is among the oldest automobile brands in the world, second in America only to fellow GM marque Buick. The firm was founded from the remnants of the Henry Ford Company in 1902, and was named after Antoine de la Mothe Cadillac, who founded Detroit.
How it began
"It used to be that if you were gay and drove a Cadillac, you fell into one of three potentially overlapping categories: 1) Tanned retiree with numerous handsome "nephews" 2) Coked-out lawyer. 3) Sleazy boy-band impresario," wrote blogger Brett Berk in Vanity Fair. But that was "used to be".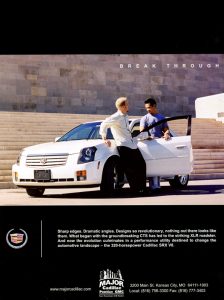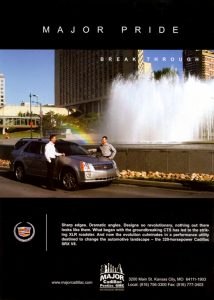 Local initiatives were developed as early as 2003 by a Kansas dealership. Print ads appeared in Kansas City's gay glossy Verge magazine. That year, and the next, the XLR roadster were presented as "Break through", with the copy "Sharp edges. Dramatic angles."
The next steps: buyer backlash?
Bigger steps were made in 2004. AdAge wrote: "Conservative Cadillac is cautiously experimenting with its first-ever push into gay and lesbian magazines to reach luxury prospects and improve its image. The strategy started last year with four ad pages for the new SRX sport utility in The Advocate. The buy will support the Feb. 17 "Gay Corporate Leader" issue". Chris Hamer, director-advertising and sales promotion at Cadillac, said the brand would buy between six and nine pages in the two titles, costing under $1 million.
Ex-general manager of Cadillac Mike O'Malley, said Cadillac was risking buyer backlash. He said the question of advertising in gay and lesbian titles never arose during his tenure. But Mr. Hamer said "there's a greater risk of not being out there and reaching out to affluent markets. It's smart business for us to advertise in magazines that reach out to affluent customers." He added that vehicle sales data for the gay and lesbian driver is hard to come by. Cadillac planned follow-up research to discover whether the ads were improving consideration and the brand's image with the target.
In 2004, the first annual PlanetOut Entrepreneur of the Year Award was sponsored by Cadillac. This collaboration was repeated in subsequent years. The GM Heritage site reports that the first Cadillac ads started appearing on gay.com (a website connected to PlanetOut), but no visuals or information about this can be found.
Gay Vague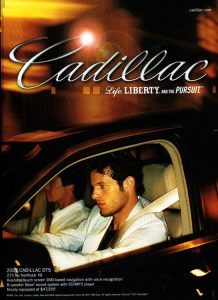 They launched a campaign with a male couple in 2007, in what Commercial Closet (now AdRespect) called the "gay-vague" category (are they gay, are they not?). Two young men wearing South Florida club clothes were photographed paparazzi-style at night, leaving in a DTS sedan. John Gasloli, national advertising manager for Cadillac, told Commercial Closet: "We previously focused on the product and wanted to pull in more of the emotional." This ad was part of their general "Life. Liberty. And the Pursuit" campaign, which featured a larger cross section of American car buyers. The print ad ran in Out, The Advocate, and Instinct. Special casting for the gay ad wasn't a consideration, the openly gay Gasloli said. "What is the 'gay look?' In my opinion, it only becomes a stereotype." Towleroad commented: "Fairly subtle marketing, imho. But, you know, at least it's not a pink Cadillac."
Road to Success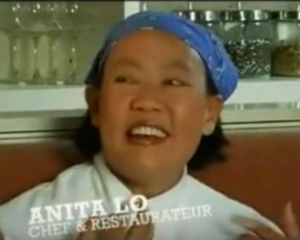 The 2008 campaign Road to Success – a first-ever partnership between GM and Logo TV, airing exclusively on Logo's 24/7 digital cable channel – was awarded Outstanding U.S. TV Campaign for the LGBT Market by the Commercial Closet Association. The series featured four short stories, by Linda Villarosa – founder of Essence Magazine, Anita Lo – entrepreneur and chef at Annisa, Rubin Singer – a fashion designer whose family emigrated from Russia, Jeffrey Seller – Broadway producer of Rent, Avenue Q, La Boheme.
The installment "Catherine Opie" was nominated for the 1st GLAAD Media Awards in Advertising in 2009.
One Facet of Me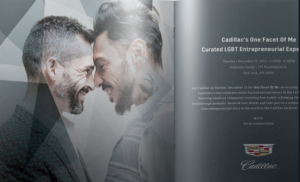 In 2015, Marketwired reported: "Cadillac will continue its long tradition of embracing originality and those who challenge the status quo with One Facet of Me, an evening of shared experiences that celebrate multi-faceted entrepreneurs in the LGBT community." The event featured some prominent LGBT personalities, Aisha Moodie-Mills (President and CEO of the Victory Fund, which supports gay and lesbian political candidates), Christine Vachon (celebrated independent film producer of "Boys Don't Cry," and the Academy Award nominated "Far from Heaven") and Jeremy Heimans, founder and CEO of Purpose.com. "Events like One Facet of Me reflect Cadillac's commitment to individuals from all walks of life who value ingenuity, passion and dare to make a difference in what they do," says Cadillac's Global Communications Director, Andrew Lipman. A Cadillac CTS luxury sedan, fitted with a backseat confessional for all attendees to tell their own stories, was featured at the event.
Dare Greatly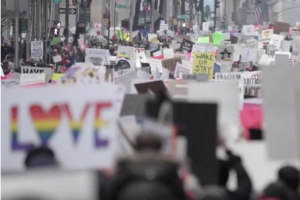 Cadillac's "Dare Greatly" campaign ran a commercial at the Oscars in 2017, that showed people gathering for protests and vigils, as well as moments of bravery and perseverance. Among the images were signs supporting LGBT rights and Muslim Americans, as well as shots of iconic Americans like Muhammed Ali and Marilyn Monroe. Melody Lee, director of brand marketing at Cadillac: "It was important for us, as a brand, to try to make a statement, not politically and not necessarily socially, but to remind the country that we're at our best when we come together."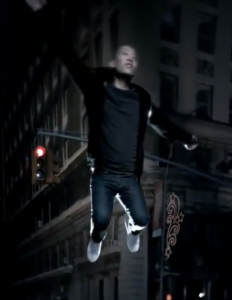 An earlier ad in the "Dare Greatly" series, also debuting at the Oscars (2015), featured openly gay designer Jason Wu discussing how his mother had been supportive of his playing with dolls and designing clothes from a young age. Wu became internationally famous for designing both of Michelle Obama's inauguration dresses. The tagline states "Only those who dare drive the world forward." Cadillac head marketer Uwe Ellinghaus: "Luxury brands don't sell products, they sell dreams. People need to find Cadillac inspiring and having a spirit and attitude, a clear point of view." The campaign is meant to show the brand in a more futuristic and optimistic light.
HRC
Cadillac/GM has a perfect 100 score on the Human Rights Campaign's Corporate Equality Index, and was listed as one of the "Best Places to Work for GLBT Equality" by HRC.