Introduction
Mercedes-Benz is a German automobile marque and a division of Daimler AG.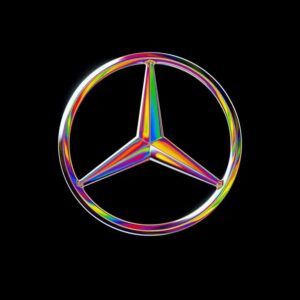 The brand is known for luxury vehicles, buses, coaches, and trucks. The headquarters are in Stuttgart, Germany. The name first appeared in 1926 under Daimler-Benz. In 2018, Mercedes-Benz was the biggest selling premium vehicle brand in the world, having sold 2.31 million passenger cars. The slogan for the brand is "the best or nothing".
The picture at the top of this page is a parody on the idea that engineering and design should be in balance ("When engineers love designers").
In 2021, Daimler AG is the second-largest German automaker and the sixth-largest worldwide by production.
Corporate policy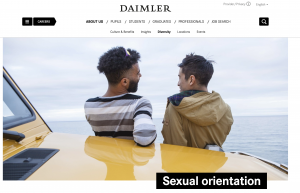 The Daimler group clearly states on their website: "At Daimler we pride ourselves on the diversity of our employees and we capitalize on the different experiences, skills and perspectives that they have. They reflect the diversity of our customers, investors, suppliers and the world around us. To ensure that everyone can do just that, we as an employer stipulate and support a culture of appreciation and respect – also with regard to sexual orientation."
The company has many Employee Resource Groups, including one for LGBT employees and their Allies.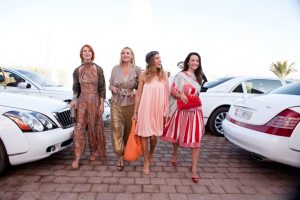 They were a corporate sponsor of both Sex and the City movies, not uniquely gay, but loved – if not worshipped – by the demographic nonetheless.
Daimler did some more Marketing the Rainbow for other brands in the group, like Smart and Dodge, while Maybach was also included in the Sex and the City deal.
The beginning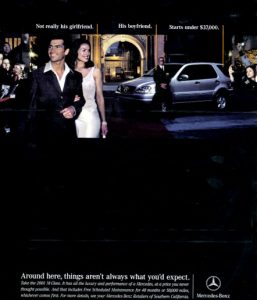 In 2001 we see a first gay campaign in the US, called "Not Really His Girlfriend".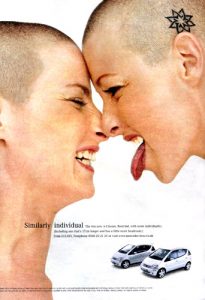 The same year they ran an ad called "Similarly Individual" in the UK. It gave a rare look at women who are not beauty-idealized — with shaved heads, a tattoo and a rebellious attitude as one sticks out her tongue . It ran in The Sunday Times, and played with the idea of copying of "individuality".
By 2004, they were more frequently advertising in gay media, and in 2005 we saw a somewhat cryptic ad with "When You Know, You Know" as well as "When Friends Are Family". The text plays on the concept of the greater importance of friends to gays and lesbians, due to the frequency of rejection from their families. "They say you can choose your friends, but you can't choose your family. Well, for those who make no distinction, the R-Class is the clear choice for traveling in style…" This theme was repeated in their 2018 Pride campaign "Chosen Family" (see below).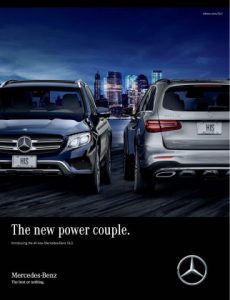 In 2011, Gaywheels had listed them on their lis of "Gay-friendly automakers".
The His & His print ad ("The New ower Couple") won an Ad POP (Pride in Online and Print) award from The National Gay Media Association in 2015.
Pride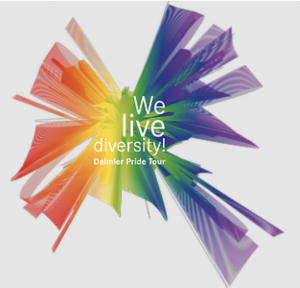 In 2018 the mother company launched #daimlerpride: "Everyone is different. But we are all equal." With the slogan "We live diversity!", Daimler participated in 17 Pride parades and events all over the world, among which Detroit, Tel Aviv, Bangkok, Vienna and Mexico City. This was repeated in 2019.
Local initiatives
In 2017 Mercedes-Benz hosted an LGBT event during the New York International Auto Show, by invitation only.
In the same year they had a beautiful Valentine message in Australia, Love is Love.
The "2017 Spring/Summer Mercedes-Benz Gay fashion campaign"  headlined Eliot Sumner (Sting's daughter) and her partner, German model Lucie Von Alten. It was filmed in Romania, with Fire as a recurring theme.
Finally
Since 2016 the Mercedes brand in the USA has released lifestyle commercial to honor Pride Month: starting in 2016 with a lot of smoldering looks, continued in 2017 with a kiss (!) in "Never Cease to Strive Beyond", "Chosen Family" in 2018 and in 2019 with "Together". The campaign in 2016 was accompanied by a series of 3×2 print ads.
2016:
2019:
More Pride
For Pride 2020, the Canadian operation launched a website "We're With You, Always" on which they present a lesbian couple, Lauren and Sam who got married in 2016, and a gay couple, Aeen and Simon with their four-year-old daughter. There is a campaign video as well as separate clips for each couple. The website tells the story of their love for cars, and each other.
Pride month 2020 & 2021
For the June Pride Month in recent years, Mercedes has used their social media platforms to show support for the LGBT community.
Pride 2021
For the second "corona Pride" the brand launched the campaign "Safe Spaces", which featured a collaboration with charity Athlete Ally. It also presented trans non-binary pro-skater Leo Baker.
They also launched a specially colored G-Class vehicle in honor of Pride.
Formula 1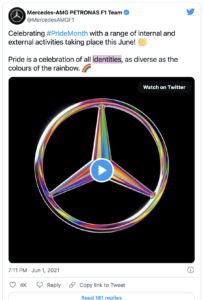 To support Pride Month, the Mercedes F1 team – not only one of the largest and most successful teams in the sport, but it also one of the most diverse – made a commitment to promoting greater diversity within their team by announcing Accelerate 25, a five-year program to mark their vision of becoming a more diverse and inclusive team. The goal is to recruit at least 25 % of their all-new starters to come from under-represented groups. The star of the team, Sir Lewis Carl Davidson Hamilton MBE HonFREng, wore a rainbow helmet during the Grand Prix of Qatar, Saudi Arabia and Abu Dhabi.
"I'm not afraid of any comments or anything negative. In the past I said 'we are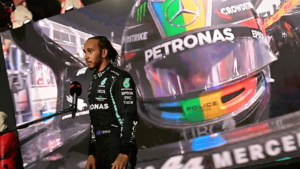 together' and 'love is love', and it's important for me to represent that community here, where there are many situations that aren't perfect and we must improve. I would like to know what's happening here and what they are doing to help the LGBT+ collective. I want to hear it."
He posted "Equality for all" to his 7 million followers on twitter.
Daimler Pride
Mother company Daimler proclaimed Daimler Pride Month for the first time in June 2021, together with the LGBTIQ+ networks Spectrum, EQUAL and GL@D: "We are taking the month as an opportunity to speak about the issues of the LGBT+ community in various digital activities." The initiative was run worldwide, including Asia, South America and Africa.
This article was last update Dec 14, 2021