Introduction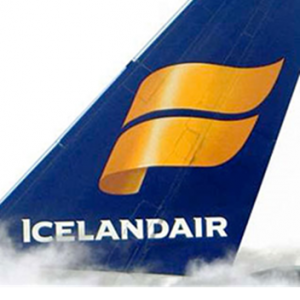 Icelandair is the main airline of Iceland, headquartered at Keflavík International Airport in Reykjavik.  The geographical position of Iceland allows one-stop transatlantic flights, which are one pillar of the airline's business strategy, along with traffic to and from the country.

Iceland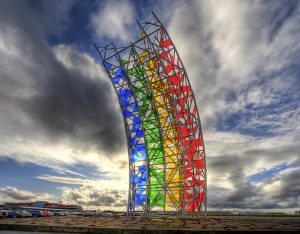 "To say Iceland is gay-friendly is like saying Rome is historic or New York is crowded," said one blogger. According to a 2017 report Iceland is more accepting of homosexuality than any other OECD country. There is even a rainbow to welcome you at the aiport.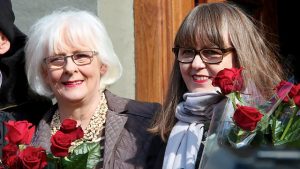 In 2009, Johanna Sigurdardottir was appointed as Iceland's Prime Minister and made world history as the first openly lesbian head of government – Forbes listed her among the 100 Most Powerful Women in the world. In 2010, when same-sex marriage was legalized in Iceland, Jóhanna and her partner Jónína changed their civil union into a marriage, thus becoming one of the first same-sex married couples in Iceland.
This is illustrative of the sentiment in Iceland and also means that the country vies for the attention of LGBT visitors, as shown by – for instance – Icelandair. As it happens, Sigurdardottir worked as a flight attendant with Loftleiðir (a predecessor of Icelandair) in her young years.
The beginning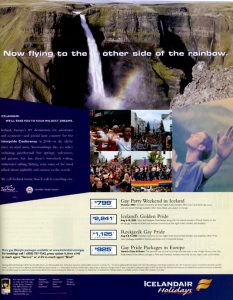 Whereas colleague WOW air made some exuberant advertisements in the rainbow arena, the "other" Icelandic airline also prides itself for being gay-friendly. As early as 2003 (so before it became fashionable), Icelandair was advertising several Pride packages, both in Iceland as well as other European markets (with Reykjavik as a stopover): "Now flying to the other side of the rainbow".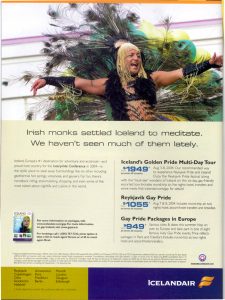 At the same time their website listed Reykjavik (Winter) Pride events and offered special packages. The dedicated section icelandair.com/gay no longer exists. However, on their blog page you can find lots of relevant info.
The next year, they showed a gay couple shopping in Copenhagen and again a (funny) ad for Prides in Reykjavik and Europe.
Further campaigns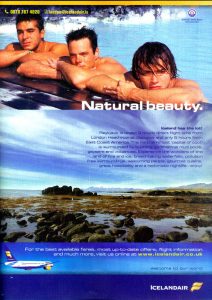 In 2005 they also recommended the "natural beauty" of the country with three men, swooning on the edge of what seems to be a hot pool. In the "Romantic Reykjavik" campaign from 2006, they also showed gay couples, relaxing in a sauna. They also offer trips to "the other side of the rainbow" outside Pride season, and again a Pride Package in 2006. In 2007, the print ad "Top of the World" showed two men climbing a mountain, but this could have been explained as any two men, while a campaign run in Germany gave "Unendliche Freiheiten" (endless freedoms) to a couple of frolicking men and two women in a strong hug.
A few years later (2012), things heated up, with another campaign aimed at the North American market.
"The Commercial"
It was not until 2017 that they featured a gay male couple in a commercial, showing how they were enjoying the splendors of Iceland. These were not actors, but GayIceland's chief editor Roald Viðar Eyvindsson, and his husband and partner of 19 years, Sigurþór Gunnlaugsson. Not surprisingly, almost all comments were positive, even those in the YouTube channel of the company. Apparently, there are no trolls in Iceland.
"Icelandair's customers are as diverse as they are many," explained Icelandair brand manager Jón Skafti Kristjánsson. "We think it's only natural to reflect that in our marketing material." The ad is part of a series and was shown on social media in all of Icelandair's marketing areas abroad, promoting the experience of visiting Iceland. Jón Skafti pointed out that gay models had been used in the company's advertisement before, but that was done when promoting special package tours to Iceland or when publishing in specific media. He says this ad is not aimed specifically at queer people, and adds that during the process, he's noticed much interest in the fact that Icelandair cast a gay couple in their ad. "It definitely reminds us of what a limited view of the world adverts tend to portray, and that we need to change that."
Finally…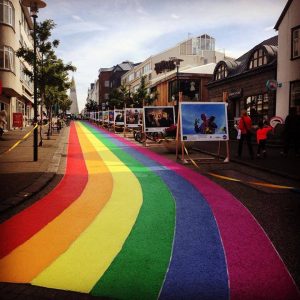 In a country as forward and tolerant as Iceland, it is still surprising to see that the Gay Pride parade draws 100,000 people, while the total population is only 300,000. One blog said: "Each summer Iceland's capital city of Reykjavik hosts the world's biggest, small gay pride."
Icelandair has continuously paid attention to the Pride events, with dedicated Pride Flights (at least) since 2018, where cabin crew and pilots are all proud members or allies of the LGBT+ community. On board the service is themed accordingly – they serve "treats, rainbows, and a festive mood".
A special page on their website in 2021 as well, stressing "Reykjavík Pride is not cancelled!" – although festivities were adapted to the covid circumstances. From educational lectures and discussions to dance classes based on choreography from RuPaul's Drag Race. There were queer-themed downtown walks, a harbor cruise, comedy shows, a drag brunch, intimate concerts, and much more.
Note: Reykjavik may well be the only city in the world with a "Penis Museum". It contains a collection of phallic specimens belonging to all the various types of mammals found in a single country.
This article was last updated Jan 10, 2022.